Potter - Dr. Eva M. Kubinsky - Crystalline Glaze Blog Post 
I have to admit it . . . I'm addicted to Crystalline Glaze. Something about it, a venture into the unknown, as you just don't know how your vase will actually turn out. It is a gamble, and I'm not the gambling type - yet here I go, diving into the deep end of the Crystalline world.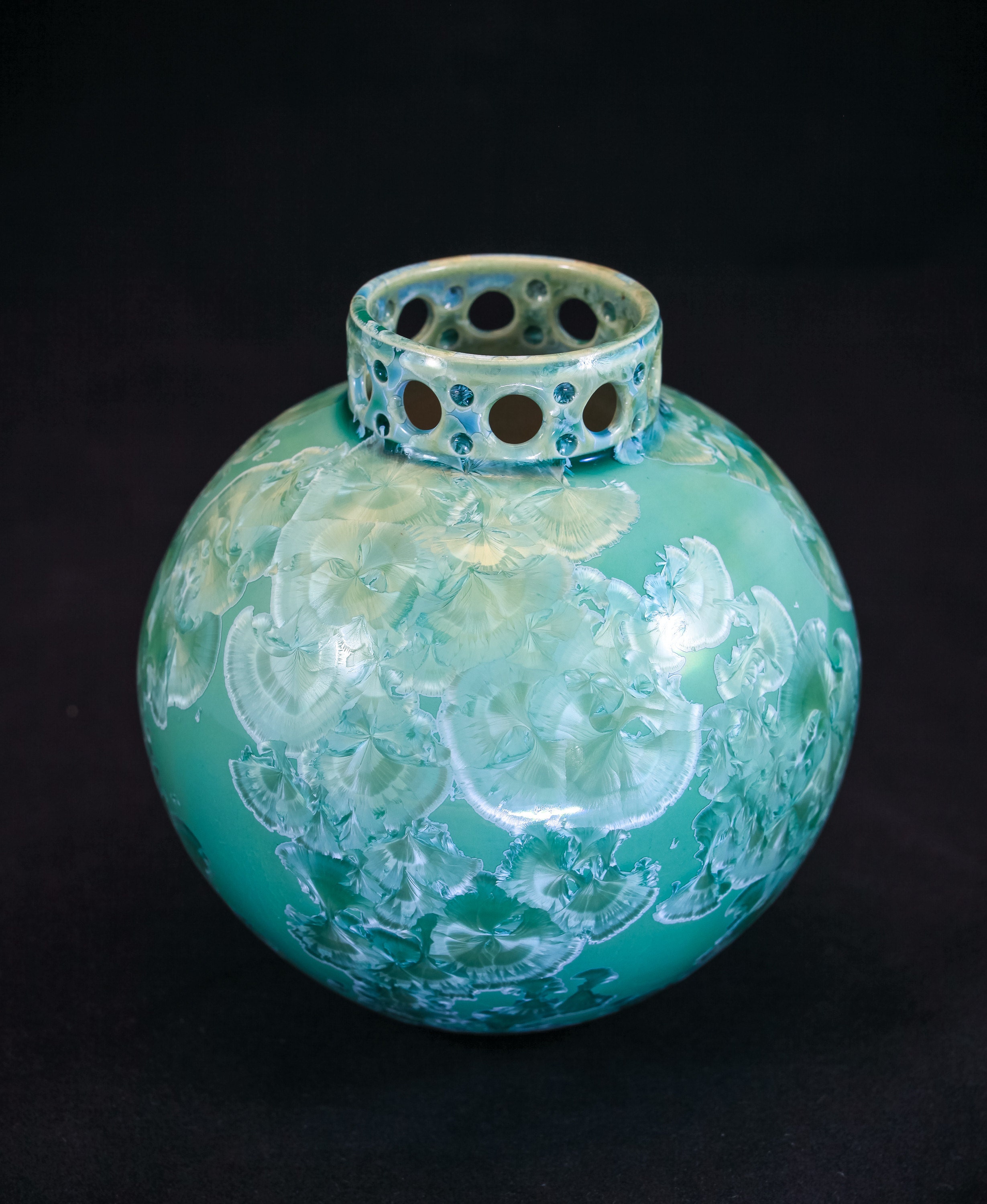 Elegant, precious, and one of a kind, the crystal process is difficult, with a high failure rate but the successful vases are so incredible and beautiful. Each crystal is similar to ice crystals that form on a winter's window - you cannot predict or control them. Each crystal is unique unto itself and is absolutely breathtaking. Over the last seven weeks, once a week, my pottery buddy and I have been traveling 380 miles R/T to Dunedin, Florida to partake in an intensive "Crystalline Workshop" presented by Master Potter, Glenn Woods. Both the workshop and he were incredible. So much was gained in both technical expertise and stylistic creativity. It was worth every minute and every mile traveled.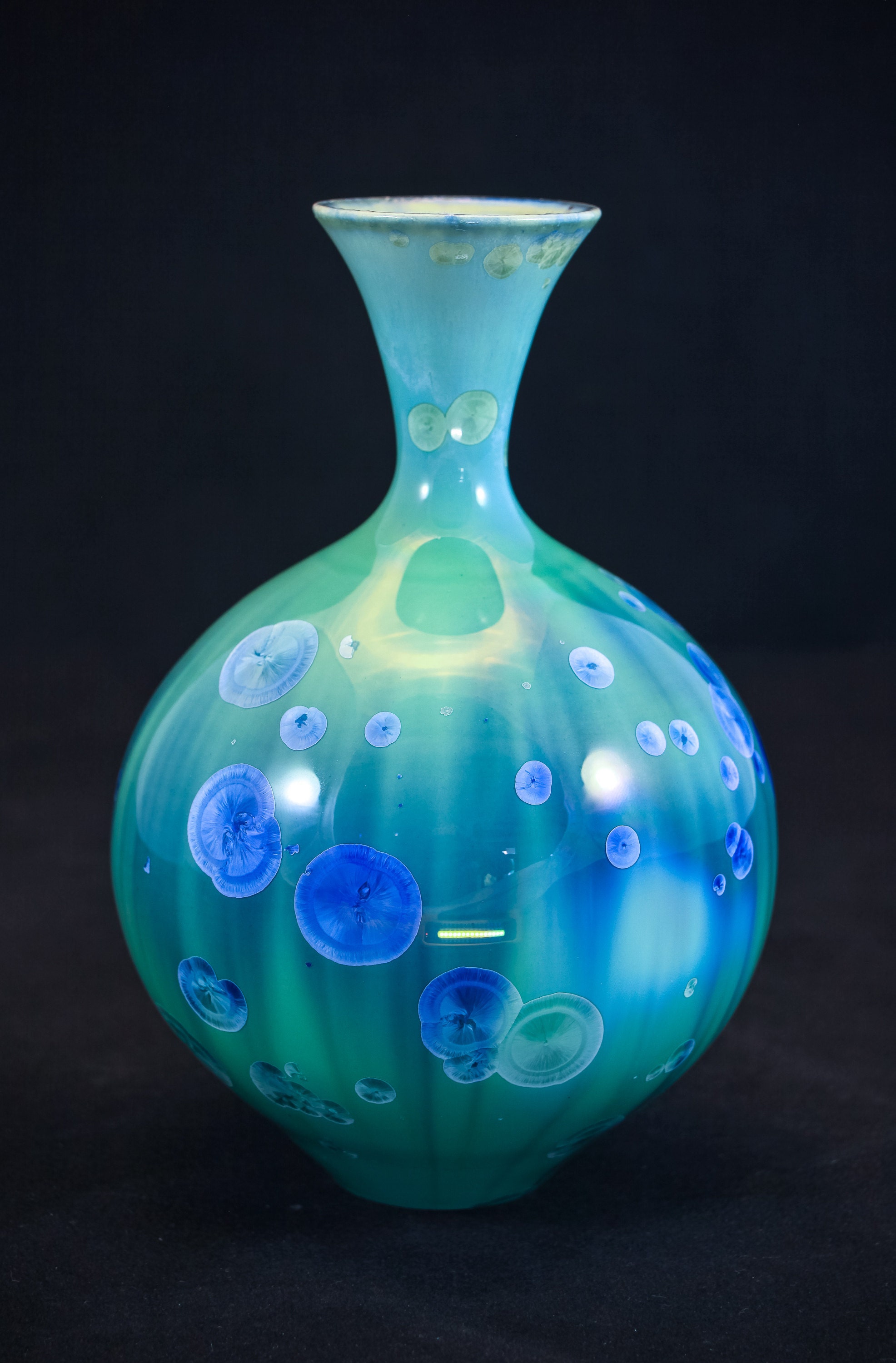 Luckily, when I was a practicing dentist, I had a strong chemistry background as I am now mixing all my own glazes from tubs and tubs of raw materials sourced from the internet. Carefully adding just the right amount of colbalt or copper powders to draw out the desired colors and hues . . . too much or too little and it is a total failure. 
With my studio kilns firing the next set of would-be vases, I test and mix gallons of my special glazes while wearing protective and respiratory gear for safety. My husband says that it is like walking into an episode of "Breaking Bad" with me blending that next batch of "Good Stuff."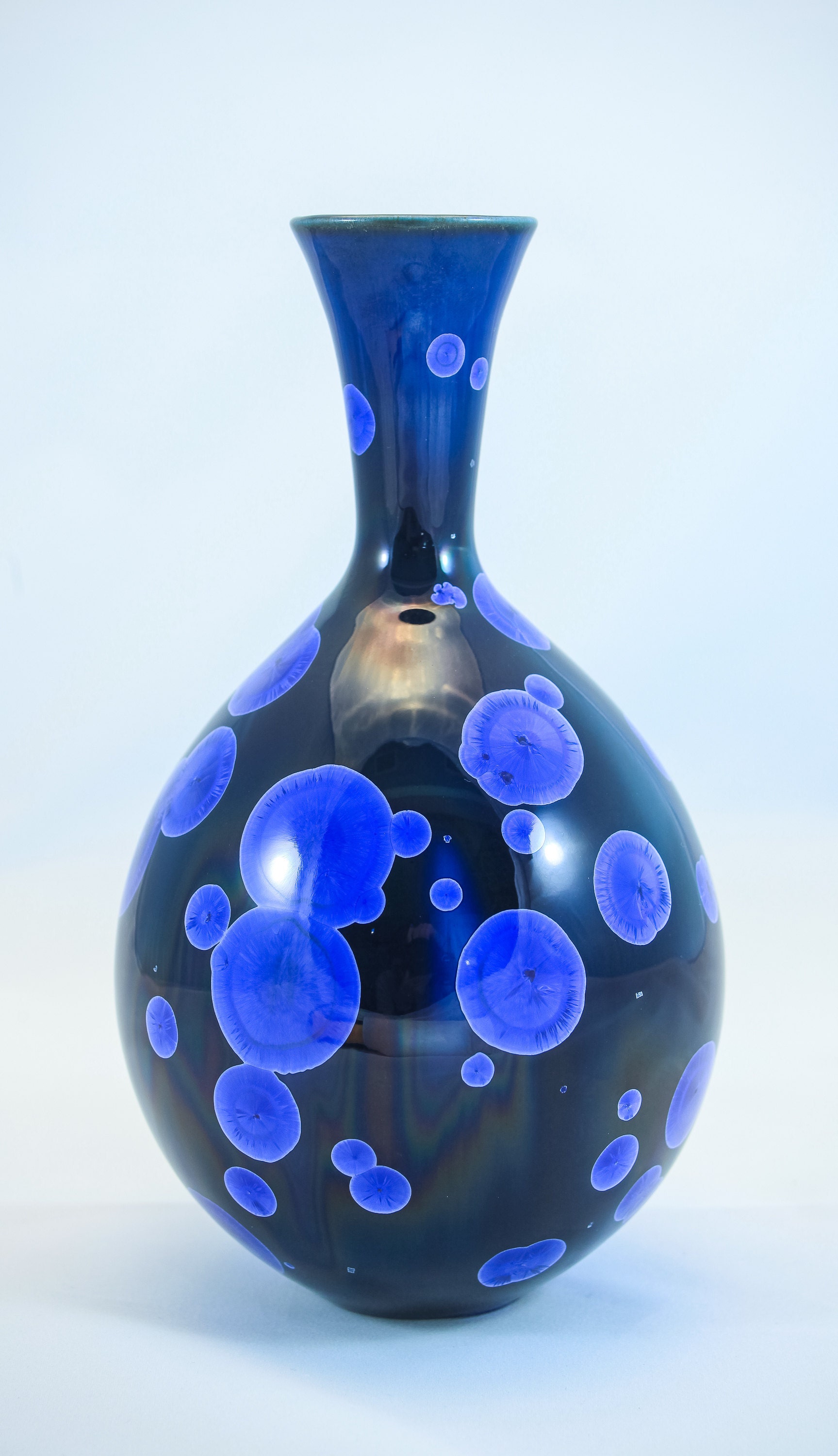 However, my potter's high comes from the incredible finished vases, each one more exquisite than the prior vase. My kiln openings are and can be both exhilarating and depressing depending on the results found within. Here is a sneak peek at some of my latest triumphs. Many more are available at my online store.
   I have the upmost respect for professional potters, creating items from a dirty lump of clay, to a glistening object of beauty. I am learning to put my perfectionist ways to good use. It is a challenge and a meticulous process, interspersed with plateaus of pride and joy, as I begin to master yet another facet of this wonderful art form.
Yours in Clay,   Eva