Our Air Plant Condo phenomena has evolved and is taking off around the country. Simple in execution, all Air Plants need is a place to "Hang-Out" and breath in some air and light . . .  
That's it, as no dirt is needed. In fact, dirt will actually kill and rot an Air Plant. Spray them with a spritz bottle a couple times a week, occasionally soak them in a bowl of water for :15 minutes and you have healthy happy plants which will last for years. They even have babies!
  In the wild, Air Plants live in virtual Colonies, groups of plants connected to trees, bushes, logs and rocks depending on where in the world they are found.   Given that we live in Florida, where Condos are a way of life for groups of residents, we took the classic high-rise to a whole other level. We created a variety of individual Air Plant Condos, in Tall - Medium - Short sizes. Plus, we created Straight - Bent or Twisted shapes, in three basic colors - Matte White, Gloss Black, and Caribbean Blue. Put them all together and you can create your own Air Plant Village. 
We would like to highlight our latest Village Builder - Our Condo Client, Toni R. of New York City. Originally a connoisseur of Succulents, Toni saw the Air Plant Condo structures as a different style of the classic Strawberry Pot. When filled with dirt, she had hoped the stylish shape would house her Succulent collection . . .  That was until she saw the wide variety of Air Plant styles, colors and sizes in the species. Coupled with the ease of care with no dirt, (especially in indoor office locations) she was hooked and created her own Air Plant Condo Village with three different condo shapes, and styles. It was made even better with a 15% discount when bought as a Village. See her Village photos here. Looks like she is adding to the New York Skyline . . . Her Way.
  Toni Says . . . "Started an AirPlant "City" @ the job to promote "wellbeing" during these COVID times. I invited my co-worker to re-arrange anytime she wants! 😆 Building blocks 4 grown-ups 😆 + the air plants put out oxygen for the crowded office."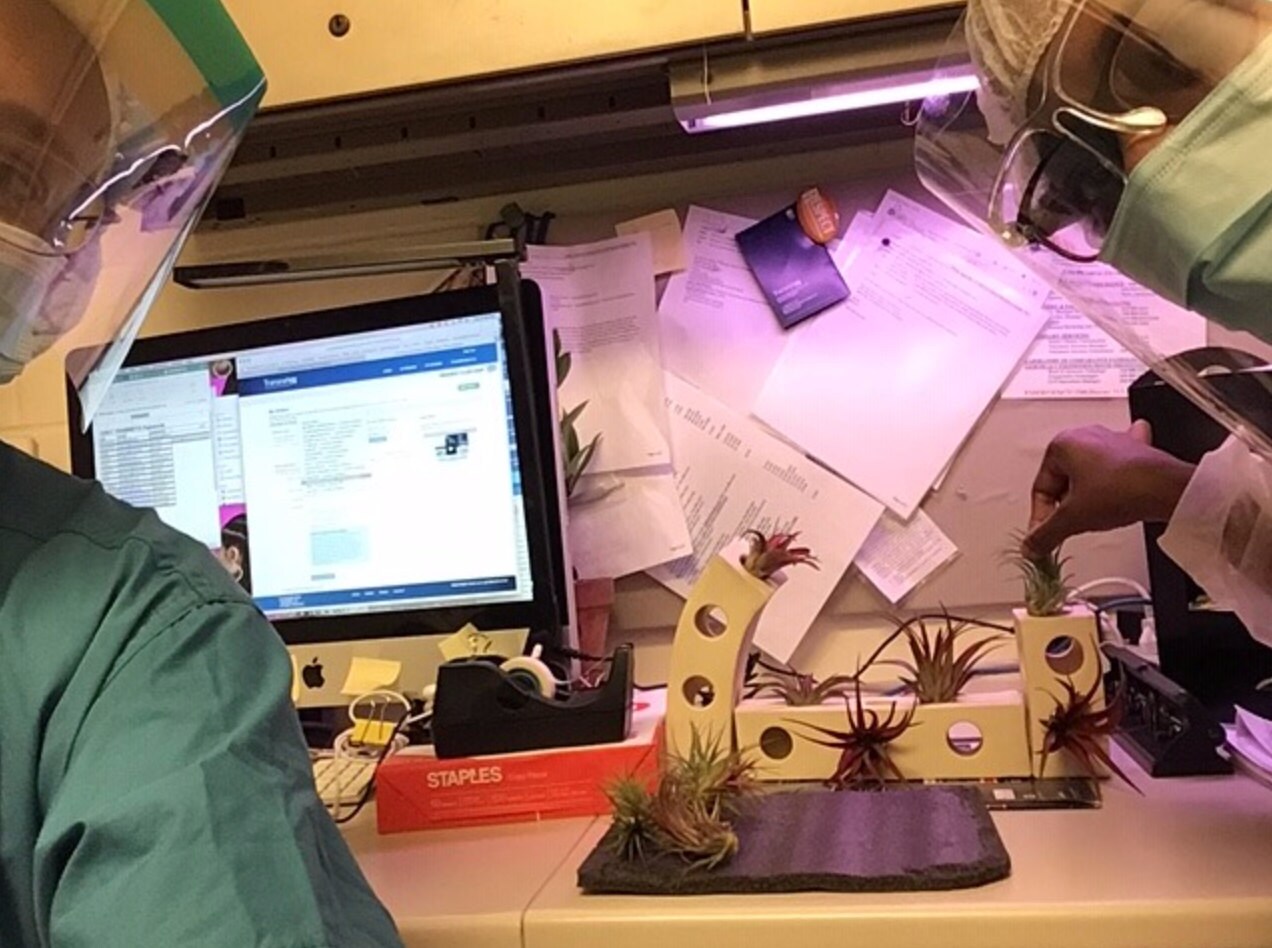 As part of a medical group, she and her office mates love the opportunity to bring a little life and color to everyone around them at work. These Air Plant Condos were just what the Doctor ordered! Kudos to you Toni, hopefully you and your office partners have started something special and put a few smiles on yourselves and your patients. Thank you for sharing your Village, we love it!  
Note - If you have a special story or photos of your Air Plant Condos in action, please send it to us. We would love to share it on our blog and Facebook. Please "Like Us" at this link -    
Yours in Clay,
 Dr. Eva M. Kubinsky